Mood : famished
which would you choose, good looks or intelligence?..
would you choose a hot looking guy/girl but a bimbo
would you choose an intelligent guy/girl but not so good looking?
personally, I'd choose intelligence over good looks any day..
what's the point of being with someone who you can't engage in a good conversation with?..
I want someone who I can talk to without getting irritated with his stupidity..
and I don't want someone who's so vain and self absorbed with himself..
I mean, who can put up with that?..
besides, good looking men are mostly gay anyway..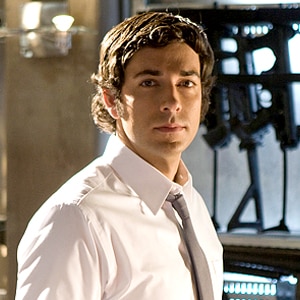 Chuck Bartowski
have you guys ever watched

CHUCK on AXN?

..
what is the story about?..
well, I'm too lazy to tell you guys, so why don't you read about it
here
..
what do you think about nerdy men?..
I mean, men who are bookworms, who get high scores in every subject, and always wear smart-looking clothes?..
what do you think about them?..
personally, I think nerdy men are HOT!
when men say intelligent stuff, it's so sexy..
knowledge is sexy on men, I'm not lying..
well, maybe it is sexy in my eyes..
sadly not all nerdy geeky men are gifted with good looks, same as to women..
but it's not that bad since anything can be changed..
fashion can be perked, hair can be styled, weight can be lost..
anything is possible, isn't it?..
you have uneven teeth? go see the dentist..
unflattering wardrobe? go for a shopping spree with a fashion consultant..
too much weight? go and exercise..
too much zits and acne? go see a dermatologist..
anyway, at the end of the day, my choice would be.....
nerds who are just nice to look at..
not the model type tho, they won't be interested in me anyway..
someone who can make me smile and get my brain moving..
p/s :- I'll be offline until Saturday night.. nuff clickers, inform me on my chatbox and I'll click yours back.. thanks!